Written by Andrea Trevisan - Bancosta Cruise
"Celebrity Beyond went 'beyond' my expectations"
THE NAMING CRUISE OF THE LATEST SHIP OF CELEBRITY CRUISES
I was reaching Port Everglades from Miami on a sunny Friday morning. The I95 was not busy and I found myself singing happy songs with my entertaining Uber driver, I was already in a weekend mood.
Few weeks ago, the charters team of Celebrity kindly invited me to attend the naming cruise of their latest flagship Celebrity Beyond and I was excited that was finally time for it.
When we were about to reach Port Everglades Terminal 25 (T25) I could see already the Beyond splendid silhouette, with the characteristic beautiful blue hull of Celebrity and you could not miss the orange "Flying Carpet" along the ship starboard side which is a sort of trademark of the Celebrity EDGE Class.
My Uber driver sounded excited as I was and he stated, "this is a cool ship hermano!" I had to enthusiastically agree with him.
SOME FACTS ABOUT THE CELEBRITY BEYOND
With her Gross Tonnage of 140.600 and length of 327m/ 1073 ft, The Celebrity Beyond is slightly bigger, about 21m / 69 ft, than the first two sister ships of the Edge Series, the Celebrity Edge (2018) and Celebrity Apex (2021). She was built by the renowned shipyard Chantiers de l'Atlantique in Saint-Nazaire in France and delivered in April 2022. The estimated building cost for the ship amounts to USD 900ml.
The Beyond will be followed by the last ship of the Edge series, the Celebrity Ascent with planned delivery towards the end of 2023. She can carry 3260 guests in double occupancy and 1416 crew.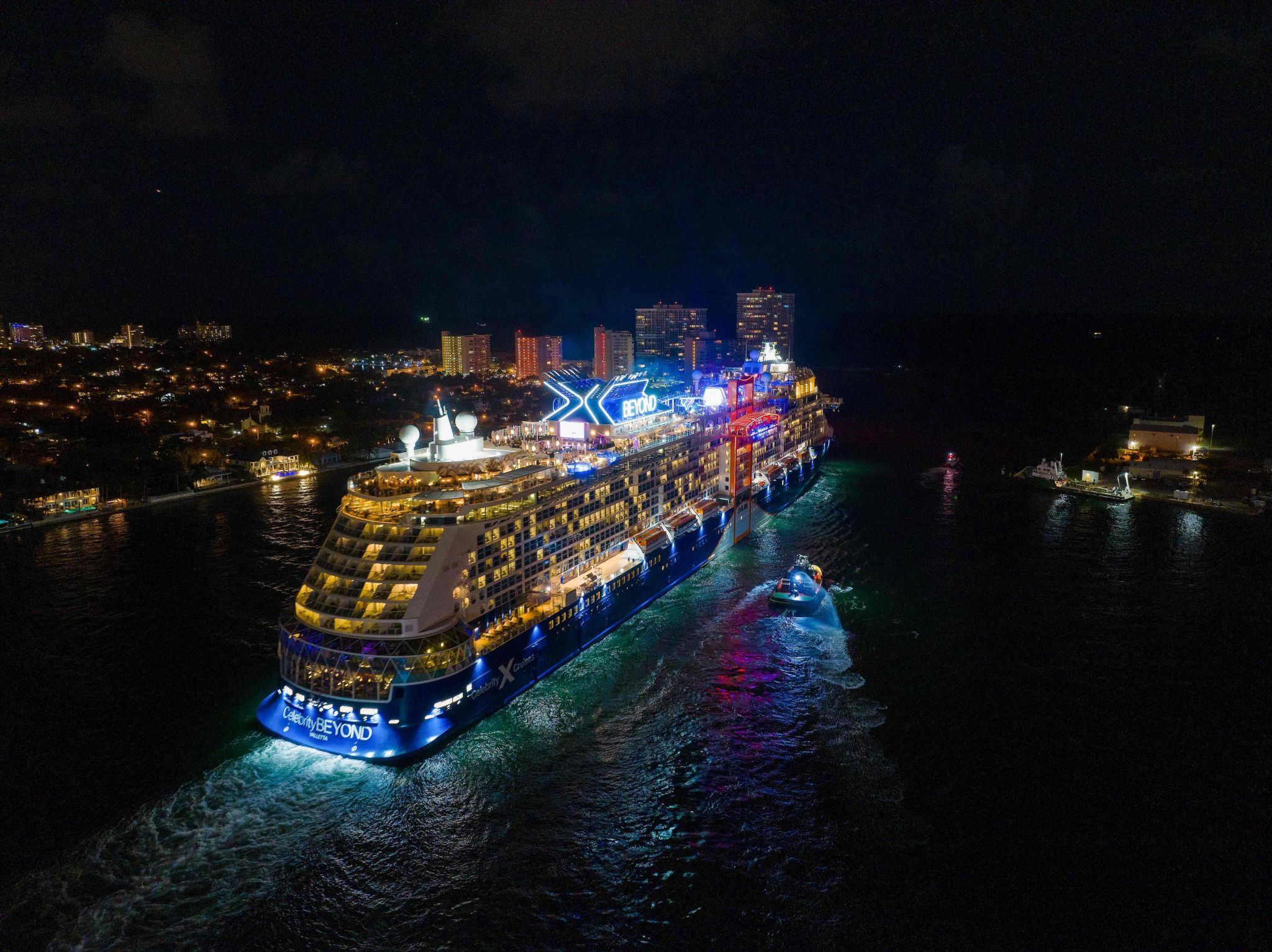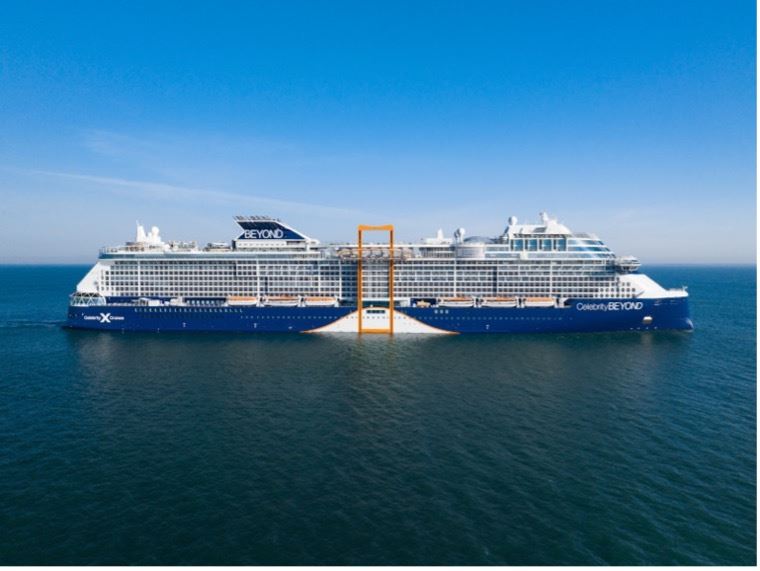 SMOOTH BOARDING
My boarding slot was 11-11.30am, I reached the terminal just before 11am and the boarding procedures were extremely smooth. I presented my check in proof via a bar code which I could download to my iPhone apple wallet. I did check in few days before via the efficient Celebrity app and within 5 minutes I was thru the security checks and ready to board: impressive.
I would like to take the chance to give a compliment to all terminal staff at T25 and the security team that day, everybody was smiling! I had to wait about 30' as the boarding did not start yet and finally I boarded the Beyond and I was so happy to see all crew finally not wearing masks and proud to show their best smiles again.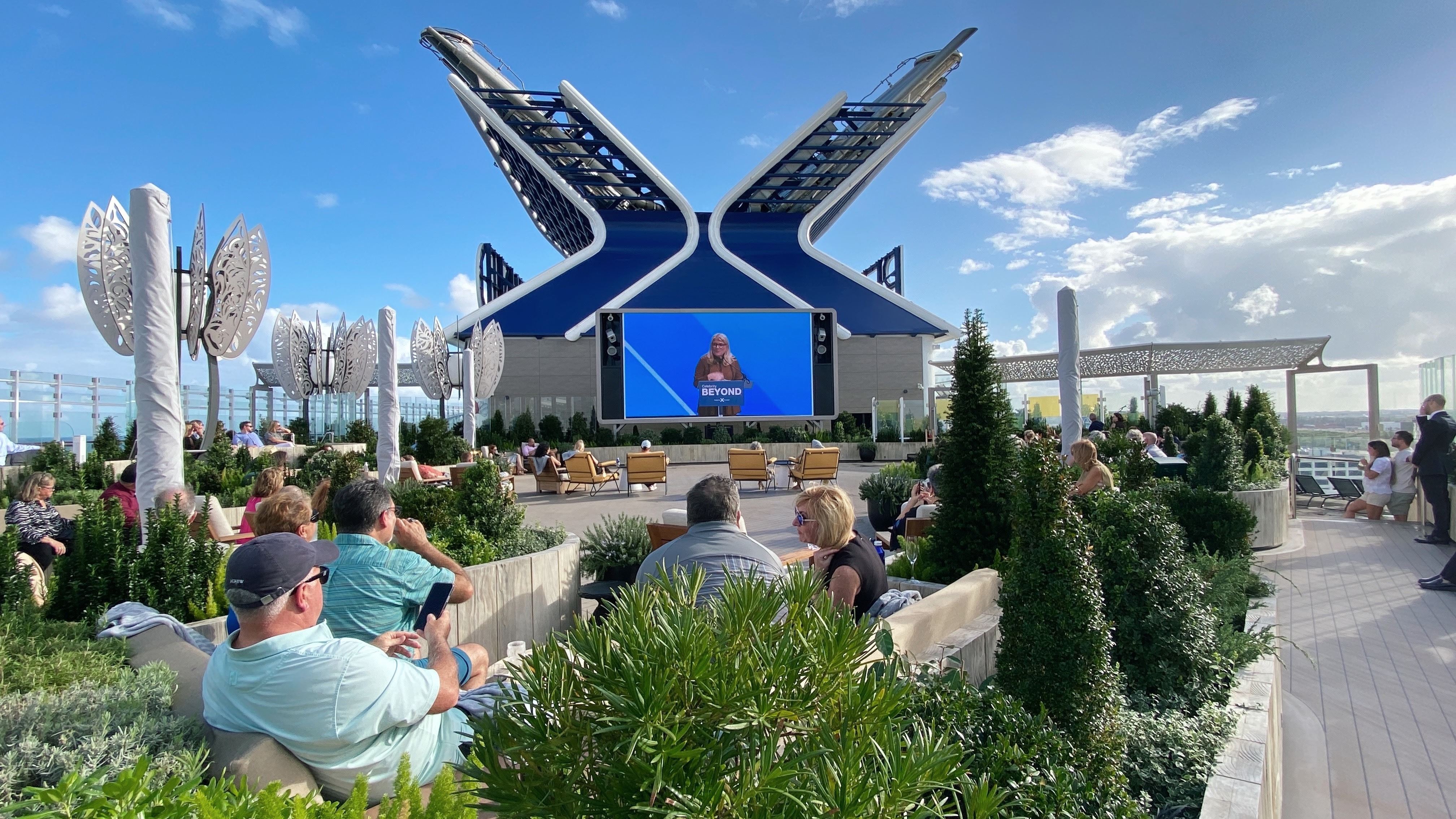 INFINITY VERANDA AND AN EFFICIENT SAFETY DRILL
My stateroom was located on deck 7, an infinity Veranda. It was comfortable, well decorated. The infinity veranda features a sort of patio with a button which can rise or lower a glass window making it a of balcony area and increasing of about 20% the cabin area. It was my first experience with an infinity veranda and I am not sure yet if I like or not compared to a balcony cabin. I would say it is a cleaver feature. Celebrity claims in fact to have the best veranda ratio, 80%, compared to a same size of vessel. I could control the temperature, the lights and the blinders with an efficient digital pad control, everything was of high quality and high tech with some interesting details.
Shortly after reaching my cabin, I have fulfilled the safety drill mandatory requirements which were extremely smooth. It was in a form of check list in my Celebrity app downloaded in my iPhone with a short video of how the wear a lifejacket, a ship emergency whistles simulated sound to be listened thru the app. Finally, I just had to check were my master station was, in my case on deck 4 by the Cyprus restaurant and the cruise staff could tick off digitally my last item of the check list, very efficient.
THE NAMING CEREMONY
I attended to the naming ceremony looking at the large screen located on the spectacular Roof Top Garden which for me is a real gem, with beautiful plants and chill out areas. I loved spending time there, even for some work with my laptop, one of my favorite places on the Beyond. I also enjoyed during the cruise relaxing and catching up some work at the Sunset bar which is located on deck 15 aft. To be noted that I had the premium wi-fi package and it worked very well also for streaming. I was working on closing a contract during the mini-cruise and I could work seamlessly when I needed.
The naming ceremony was enjoyable and tasteful. The Godmother of the Beyond was Simone Biles one of the greatest gymnasts of all time, 19 -time World Champion and 7-time Olympic Medalist . Lisa Lutoff-Perlo, President and CEO of Celebrity Cruises described Simone Biles as the G.O.A.T. for her accomplishments as gymnast but also for her ability to help and inspire others in sport and in life. British global singing sensation Leona Lewis has been performing some of her best songs during the naming ceremony.